The origins of the Monreef story go back to Africa, where the seeds of not only humanity, but just as importantly, also Monreef were laid. The unique concept of Monreef fuses original art and designs and tells a wondrous story of a flamboyant character who travels the earth and meets a motley mishmash of people. Our odd hero is a stranger in a strange land and experiences highly unusual adventures, as it is bound to happen to all of humankind during their journey on the river of life.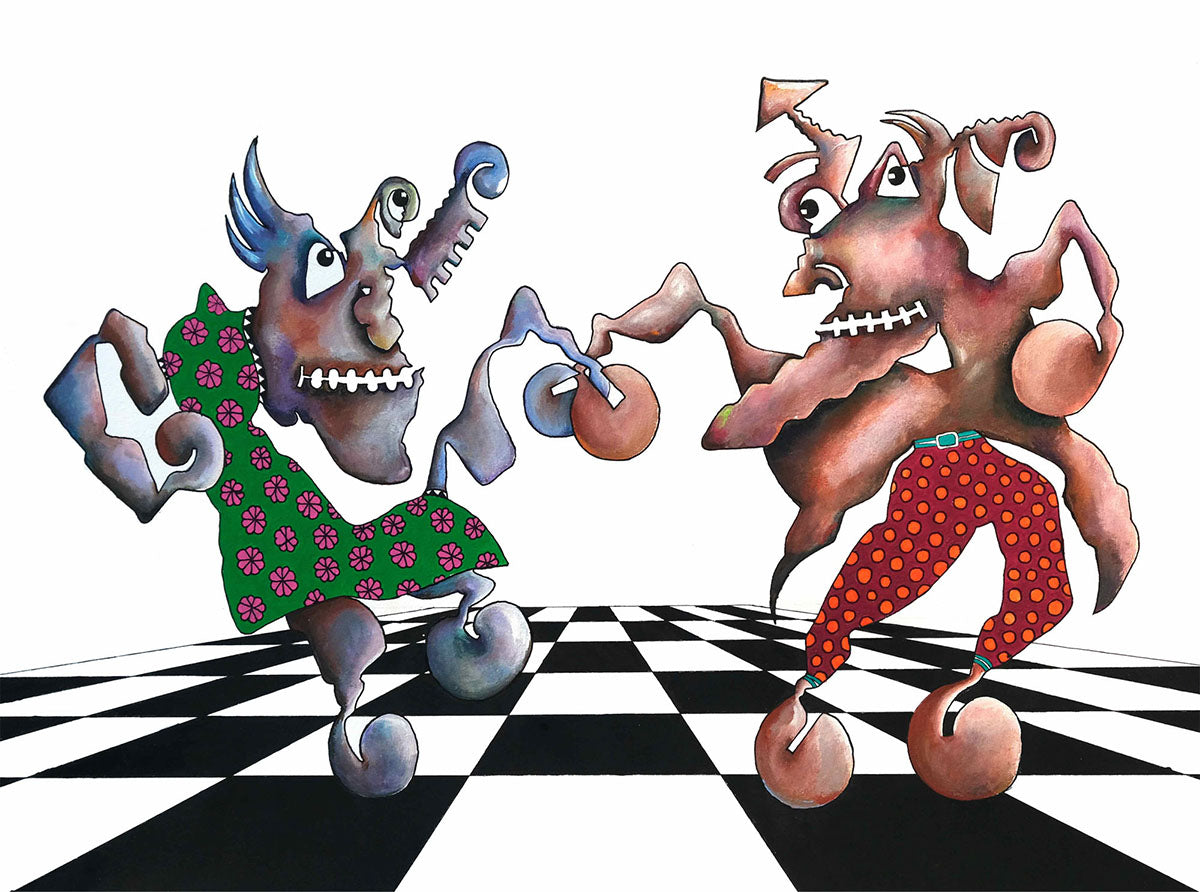 The story of Monreef starts in the 1990s in the Kingdom of eSwatini, then Swaziland, in the south of Africa. Artist Frank D.R. makes a number of mixed media drawings and paintings inspired by this new environment. These drawings tell about a bizarre world full of grotesque and hilarious monsters who get involved in a number of absurd adventures or situations (not unlike its inventor who proves to be as eccentric to the great disenchantment and at times even outright disapproval of his bystanders).
Their appearance is strange, even downright bizarre, but their deeply human facial expressions and colorful pop-art-like and varied environment really capture the imagination of the audience.


The idea for T-shirts was born with the central character of Phrrrwydd, a kind of benevolent alien who accidentally gets stranded on planet Earth and who, eventually, seems to get along rather well with the most common humans (definitely not all!). Artist Frank D.R. creates a number of models with designs inspired by his drawings and launches Monreef (pty) Ltd. The first screen prints are produced in Zimbabwe Harare with ecological inks and sold in the South-African Region, as a test for a bigger venture in Europe afterwards. The unique T-shirt has a multi-color print on the front and a logo with a title on the back. This "caption" is a kind of comment to the story on the front cover.


In 1995, Frank D.R. returns to Belgium with the idea of ​​launching Monreef in Europe as it was originally intended, but the time and resources are lacking and family life takes over. Many years later, Frank's daughters rediscover some leftover T-shirt samples in the basement. As of then, the Monreef T-shirt madness was a fact. The time was finally right to mount this initiative in an improved, ecological and definitive way. Today, Eleonore, Marion and Louise, Frank's daughters, are involved in business operations. And Frank? Well… he is around.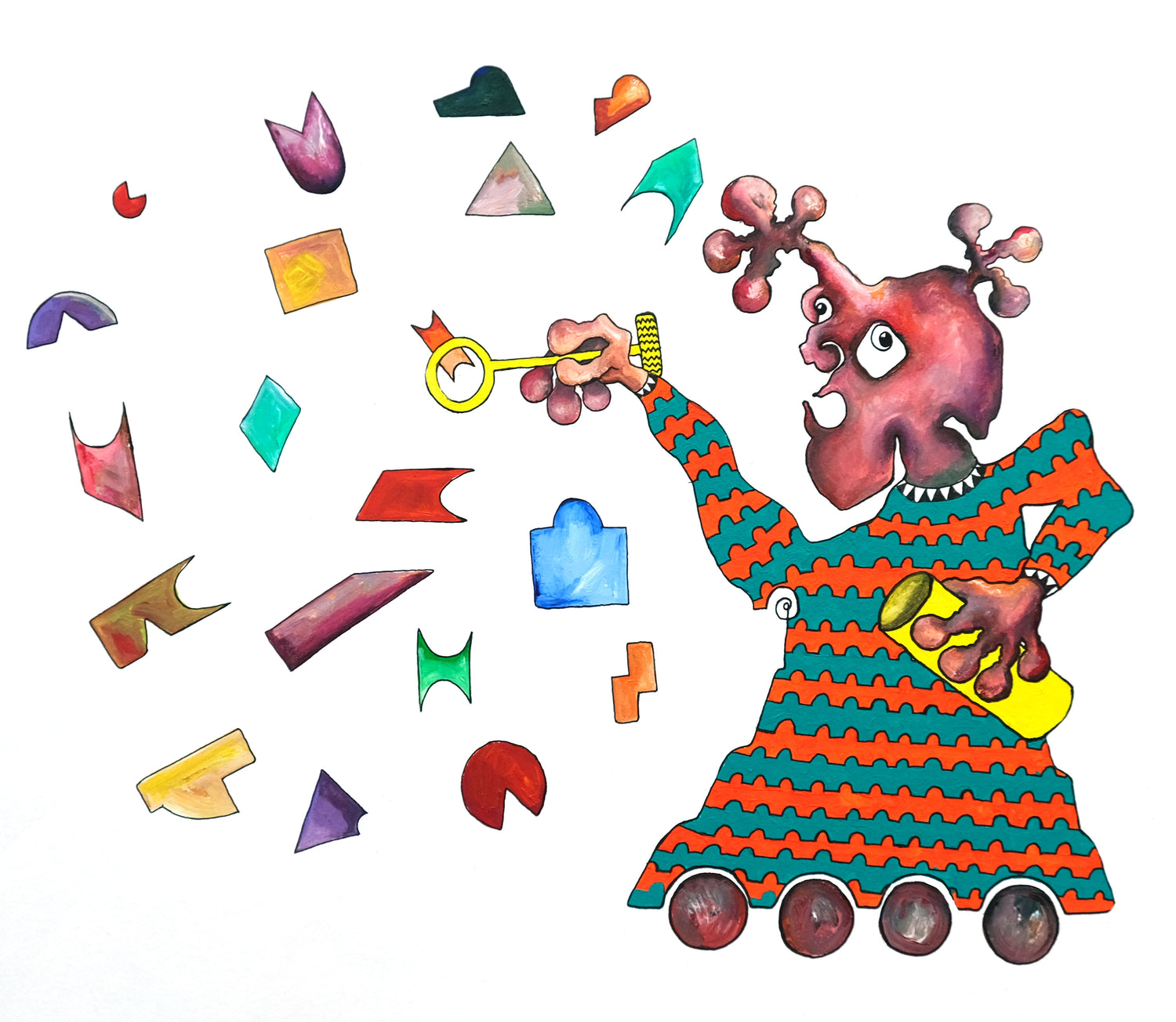 At Monreef, ecology, the environment and renewable energy are of paramount importance. The inks, packaging and the entire production process, from design to printed T-shirt, is as ecological as possible. We only use GOTS certified organic cotton. Organic cotton, unlike regular cotton, is grown without chemical insecticides, fertilizers or pesticides. This means that no dangerous or toxic substances get into the soil, rivers and lakes, so humans and animals can live in a safe environment. Our t-shirts are also peta approved (vegan), global recycled standard approved and fair wear approved.

For the printing of our t-shirts we chose screen printing, which is a traditional technique for printing, among other things, textiles. Screen printing ensures a high-quality and durable appearance. The result is high-quality material that remains beautiful even after washing and usage. We use water-based ink for printing, which is the most ecological way of printing. This ink is free from solvents and plasticizers, and it is OEKO-tex certified.

In addition to this, our shipping bag/box is made from 100% compostable/recycled material. To ensure that the products don't get damaged by water, we choose to put them in an additional water resistant plastic bag which consists of 70% recycled material. We are planning on making that 100% in the future.

Furthermore our postcards, labels and thank you cards are all 100% C02-neutral. The company uses green electricity, vegetable inks, recycled paper, as well as optimized transport in order to ensure the lowest emissions possible from your order.

Our priorities now are looking for a way to make the process of transport to the customer ecological as well.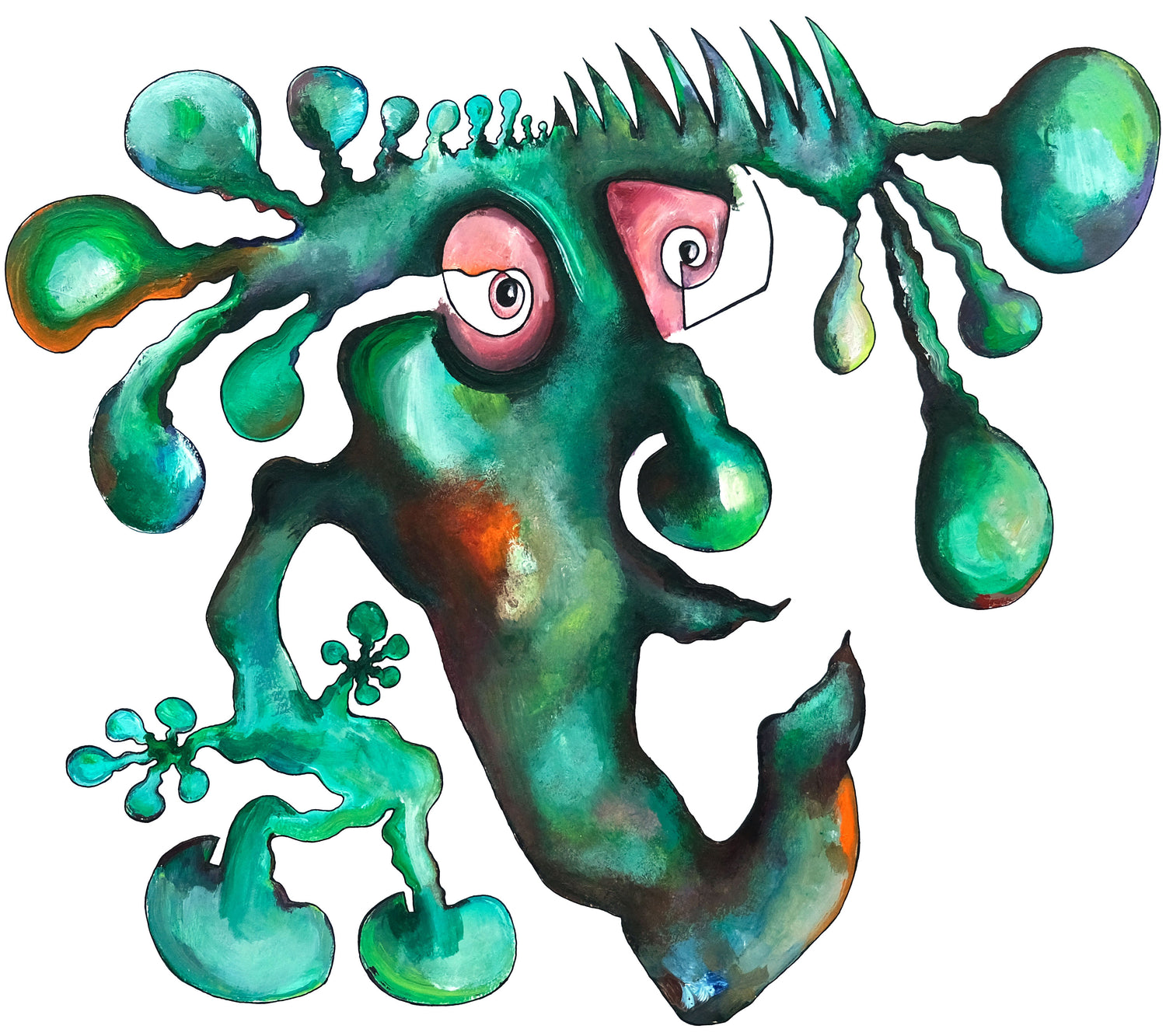 Once upon a time, Phrrrwydd, coming from deep space and charged with a secret mission, crashed hard on planet Earth. He lost all contact with the mother planet and now he was onto himself. His gleaming flying saucer landed with a last bounce upside down. Shaken up, Phrrrwydd stuck his head out of the battered plane and studied this bizarre world.


It was populated with a colorful mishmash of busy but above all freaky creatures. The rather wretched life-forms seemed to have no less than four limbs, grouped by two, displaying varying functions: the upper limbs were responsible for locomotion and seemed to stick to a kind of solid sky. The bottom pair swung up and down aimlessly, half-floating in a kind of thin ether,… so different from what he was used to see. Extremely confusing! He called them "The Upside Down Earthlings". It didn't take long before Phrrrwydd came to his senses and turned around at last, the whole thing now seeming to be a lot more logical and familiar. But the name of "The Upside Down Earthlings" stuck. He resolved to think twice before writing his memoirs, no less than three times before publishing them, and for sure in a very limited edition. At least if he could return to his no longer inhabited world.


Phrrrwydd is not an evil creature. He has a gentle disposition. In contrast to his patient and calm nature, he has a capricious and grotesque appearance that causes quite a stir and awe among the earthlings. And as for limbs, there are quite some and their number varies constantly. They are also malleable in nature, taking on all conceivable shapes. Sometimes he uses them to crawl around or to practice his asynchronous and odd dance steps. Then again to indulge in food or to comfortably nestle under a large-crowned tree.


Phrrrwydd is curious and sets out to learn all about these strange creatures, the earthlings, and their curious habits: sometimes funny and sometimes pathetic, sometimes affectionate and sometimes gloomy, at times surprising but just as often tiresome!  Phrrrwydd mingles with the Earthlings and decides to immerse himself in their lifestyle and to participate in their peculiar activities as if he were one of them. As an alien he is alone yet together amongst Earthlings. With time he would see further. After all, his interstellar travel plans had been shelved until further notice.